Enjoy a day on Quadra Island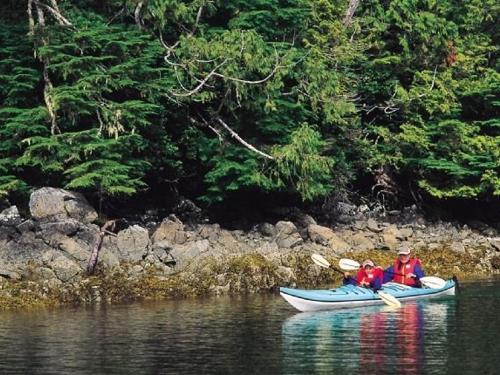 Our ultra-convenient location directly across from the Quadra Island ferry terminal in downtown Campbell River makes the Comfort Inn & Suites your ideal choice for Quadra Island accommodation – even though we're not technically on Quadra Island!
Wake up to a free hot breakfast and then simply cross the street to the Quadra Island ferry to explore the pristine forests, tranquil beaches and rich history of Quadra Island. At the end of an awesome day on Quadra, retire to the unparalleled comfort of the Comfort Inn & Suites, Campbell River. It's the best of both worlds – Quadra Island accommodation with Campbell River convenience!
Things to do on Quadra Island:
Hiking / biking
More than 200 kilometres of hiking and biking trails crisscross the verdant terrain of Quadra Island. From a leisurely sunrise stroll along Rebecca Spit to an adrenaline-fuelled singletrack pursuit alongside a breathtaking ocean vista, Quadra Island has a little something for everybody.
Diving
The waters around Quadra Island offer some of British Columbia's most spectacular diving. The current through Seymour Narrows can hit speeds of more than 15 knots – faster than the Guinness world record holder. The oxygen and nutrients this current injects into the local ecosystem support a dazzling array of marine life. You could see colourful anemones, sponges, tube worms, wolf eels, ling cod, and even the elusive giant Pacific octopus. And don't miss diving the HMCS Columbia, a 112-metre warship that now serves as a spectacular artificial reef.
First Nations History
Quadra Island is rich in First Nations heritage – a fact evident both in its historical sites and in the array of First Nations art created by resident artists. The Nuyumbalees Cultural Centre, located at Cape Mudge Village, is the perfect place to learn about the Kwak'wala, Laich-Kwil-Tach & K'omoks Peoples – as well as see fascinating ancient petroglyphs dating back more than 2,500 years.
Wildlife tours
Adventure companies based on Quadra Island offer you many options for discovering the native fauna of Quadra Island, Desolation Sound and the many islets and inlets of the Salish Sea. Depending on the type of tour and time of year, you could spot orcas, porpoises, seals and sea lions, bald eagles, black bears and more. Though there are no grizzly bears on Quadra Island, grizzly bear tours can also be arranged to the coastal mainland.
Kayaking & boating
Marine adventure-seekers, seek no further! Multi-day kayaking adventures with the orcas (killer whales) of Johnstone Strait depart regularly from Quadra Island, as do shorter excursions through the abundant waters off the island. Advanced paddlers can ride some of the world's largest freestanding tidal waves in Surge Narrows, while those seeking more a more leisurely paddle can head to the tranquil chain of lakes in Main Lake Provincial Park, a perfect setting for canoeing and flatwater kayaking. Quadra Island is also a jumping-off point for yacht and sailboat tours to Desolation Sound, one of the West Coast's premiere cruising destinations.
Redefine "Island time"
If you thought Vancouver Island was laid-back, wait until you discover Quadra! Wander down to the picturesque Cape Mudge lighthouse, stroll the Saturday market in Quathiaski Cove (May to September) or watch for the annual Quadra Island Art Festival or Garden & Quilt Show. Better yet, sit down with a hot cup of coffee or a glass of local wine from SouthEnd Winery and just watch the world go by!